Passionate silversmith, Sergio Sanchez, shares his story
In the heart of the historic center of San Antonio de Areco, on the corner of Alsina and General Paz, stands a small workshop, very discreet in its appearance, but worth the detour.
Sergio Sanchez, the owner, has been a silversmith for over 30 years. Dedicated to his passion, he designs his own objects and sells them to visitors from the region, the country, or even the world. Sergio has agreed to answer our questions and share some of his secrets of the trade.
What was your career like?

---
None of my family members were in the silverware business. I discovered my true passion at the end of adolescence when, on a trip to Bariloche in the Argentine Patagonia, I was made an apprentice in a leather crafts studio. That's where I found my vocation for craftsmanship.
Six years later I returned to my hometown, San Antonio de Areco, where I started experimenting with different materials until I was finally seduced by metals. I learned some techniques with friends and by taking a chiselling course, but also by trial and error … Finally I settled permanently in Areco and set up my workshop, which I have had for over 30 years!
What are the qualities of a good silversmith?

---
Being passionate! Being an artisan is something you must have in your veins. And above all, being curious, wanting to learn new things and ask questions, and having an iron will to improve yourself. A good knowledge of the techniques and tools is also essential. One should not be afraid of devoting time and love to one's work. Always encourage yourself to take a step forward being afraid of making mistakes.
What types of objects do you make?

---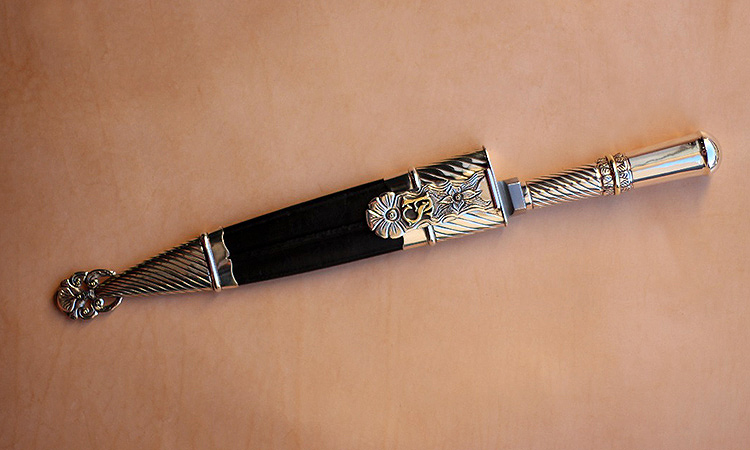 The most important demand is in the field of cutlery: knives with wooden handles decorated with silver, facón (gaucho knives), kitchen knives …
Careful and meticulous, Sergio pays special attention to details, which give great value to his pieces. He always tries to satisfy the needs of his clients to the best of his ability, and also produces other types of pieces, such as buckles for gaucho belts, mate cups, jewelry …
What is a typical day like?

---
A working day always begins with some mates, the drink that all Argentines love!
After verifying the orders (80% of our production comes from the explicit requests of clients), I start designing a piece by drawing it on paper. This step challenges the craftsman's creative spirit, who at the same time must adapt his vision to the tastes and desires of the client. Once the prototype is approved, the manufacturing process begins.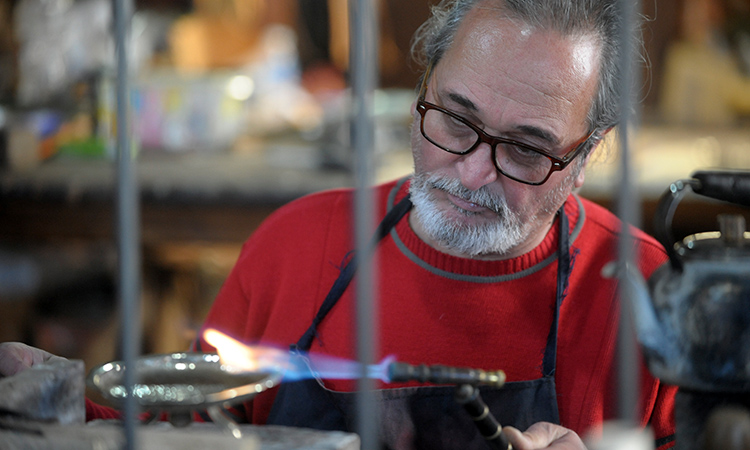 Everything begins with the intense fire on the crucible. We cast the silver fused with a bit of copper to create the ingot. Then, we go through different techniques of welding, chiselling, shaking and polishing until we make a unique piece, which will be proudly worn by the customer.
Given that silver is a very soft metal, it must be mixed with a little copper, which is harder, the quantity depends on the piece that is going to be manufactured. For example, a stirrup must be strong, hence the high percentage of copper used in its production: I use 800 silver (80% silver and 20% copper). In other cases, when making finer pieces such as jewelry, I use a different type of concentration, such as 925 silver.
Here we distinguish three categories of silverware. There is the civil silverware, for everything that concerns the daily use of silver pieces (silverware, plates, jewelry …), the Creole silverware, which designates the objects used by the gauchos (facons, belt-buckles, horse paraphernalia…), and religious silverware (crosses, statues, chalices …).
Who are your customers?

---
I usually work with three types of clients:
 The locals of San Antonio de Areco or the neighboring towns (around 50%). The countrymen and gauchos who live in the area regularly order their personal paraphernalia or that of their mounts: knives, belt buckles, stirrups …
 The customers of Buenos Aires are also very numerous (approximately 40%).
Finally, 10% of my clients contact me from other parts of Argentina and even from Europe and North America.
What does silverware represent to the gauchos?

---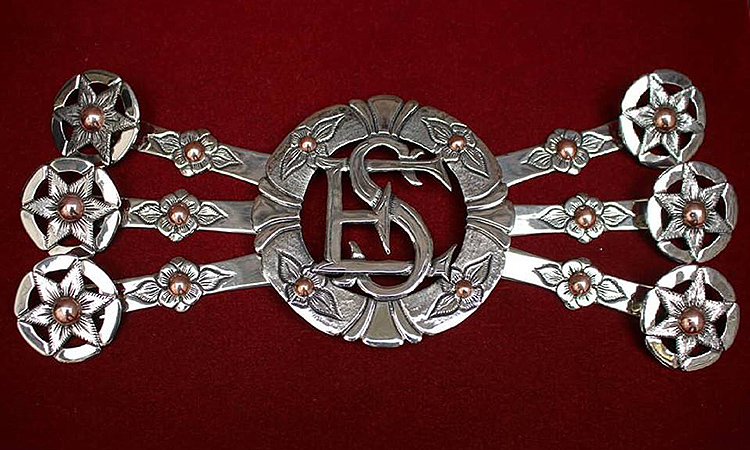 Silverware is an integral part of gaucho tradition. Originally, the gauchos worked with leather and silver. All the pieces needed for their attire or their horses, they made themselves.  Today, the practices have changed; gauchos now turn to professional craftsmen who are completely dedicated to this art form.
What are your tips for young people who want to follow in your footsteps?

---
Starting a silverware career is difficult, but with willpower and passion, anything is possible! Motivation and a strong desire to learn are essential. All the same, I believe that in San Antonio de Areco today it is easier to get started in this profession because there are numerous workshops and many professionals are willing to welcome an apprentice and share their experience and knowledge with him. I, for example, trained several apprentices who started in my workshop and who nowadays work independently in Areco, and even in Buenos Aires.
---